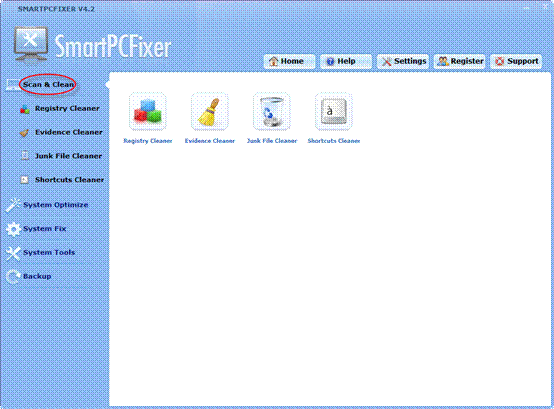 The previous sections include program start and the basic knowledge of the Main window controls. To use the essential SmartPCFixer features, the user can start with the Scan & Clean utility which includes:
l Registry Cleaner: This feature is supported by powerful scanning and repairing engines.
l Evidence Cleaner: This function can erase files and clean your Internet traces such as Cache, Cookies, Brower鈥檚 history and many more鈥?/span>
l Junk File Cleaner: It can remove almost all junk files from your computer system to provide more free space on your hard drive, thus makes applications to run faster and more efficiently.
l Shortcuts Cleaner: This tool is utilized to deal with used shortcuts in your disk.
The features above are the most important ones that SmartPCFixer possesses.