What is Error 1721?
Error 1721 always happens in Windows XP and Windows Vista and often occurs when you want to uninstall a program from "Add or Remove Programs." The error message reads like this: "Error 1721. There is a problem with this Windows Installer package. It means you should fix the install error immediately.
Causes of Error 1721:
The reason which caused error 1721 is corrupt registry entries. These elements are caused by programs that are not properly or completely uninstalled, leaving bad shortcuts and unwanted files in the Windows registry, and from tainted downloads. Primarily, Error 1721 appears when you're trying to uninstall a software program or some essential registry files are missing.
How to Fix Error 1721?
Method One:
The easiest way for you to fix error 1721 is to choose Smartpcfixer.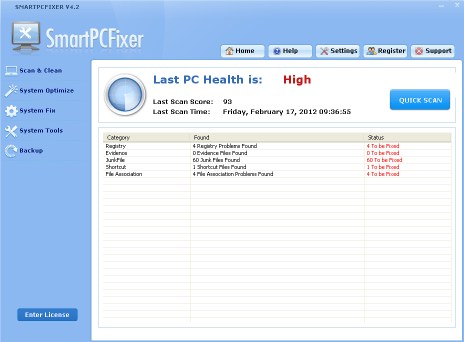 STEP 1: Download Smartpcfixer & Install it. (Note: If the download link doesn't work you may need to download it from a Download Mirror).
STEP 2: Scan Your PC for Errors.
STEP 3: Click the "Fix All" Button to Repair Your PC.
Method Two: Fix it manually.
1. Restart your computer and press the F8 key repeatedly as soon as you see the BIOS information on your screen. Pressing the F8 key allows you to access the "Safe Mode" of your computer. Select "Safe Mode" and hit "Enter."
2. Log on as "local administrator." Click "Start" and select "Run." Type"cmd.exe" in the "Run" box and click "OK." This will open the DOS (command) prompt.
3. Un-register Windows Installer service by typing "msiexec/unregister" at the command prompt and hit "Enter." Immediately re-register Windows Installer by typing "msiexec/regserver" on the next command line and hit "Enter." Type "Exit" to close out of the command prompt. You can now attempt to remove the program once again from "Add or Remove Programs."