What is Codec Errors?
A Codec is essential software which is used to compress or decompress a digital media file, such as a video. Most often, Codec errors occur when you attempt to play a video using Windows Media Player. If the video doesn't play properly, then you will get a error message which states the required video codec is not installed.
In this situation, there is an efficient and effective method for you.
SmartPCFixer is designed to deal with computer issues, especially for codec errors. SmartPCFixer™ is a top-ranking error-resolution registry cleaner which will fix the computer errors and optimize the system settings. You can scan, clean, optimize, and keep your PC much healthier with it!
How to Fix Codec Errors with SmartPCFixer?
STEP 1 Download Smartpcfixer & Install it. (Note: If the download link doesn't work you may need to download it from a Download Mirror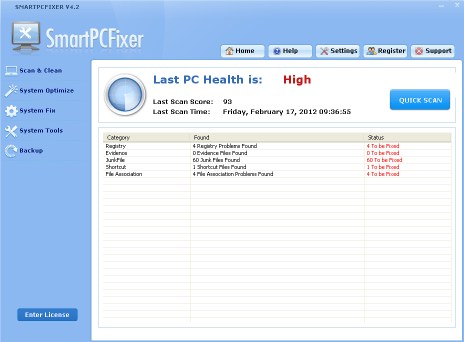 STEP 2 Scan Your PC for Errors.
STEP 3 Click the "Fix All" Button to Repair Your PC.
If you are an advanced computer user, we can also provide a manual method. Please follow the below steps to troubleshoot this issue.
Method One:
1.Open Windows Media Player and click "Tools", click "Options".
2.Click "Player" Tab to check the box which is next to "Download Codecs Antomatically"
3.Click "OK" and see if it works. If you are told to install a codec, please click "Install"
Method Two:
1.Use the Microsoft Fix It Soltuion Center and click "Microsoft Fix It"
2.Click on "Run"
3.Click "Continue" or "Allow". The Microsoft It Tool will help you fix this error automatically.