Everybody has some unwanted files on their computers. The more you use your computer, the more it becomes clogged with unwanted and unnecessary files that consume system resources and will not add any benefit to your computer. These files include old files, internet history and more. The longer these files stay on the computer, the likelihood that your computers speed and efficiency will decline. However, this problem is not difficult to resolve. You could either download a registry cleaner or use the Disk Cleanup Utility on your PC. You can remove these unwanted files safely without damaging system components.
First, please try a Registry Cleaner tool to get rid of this problem. Such tools usually have friendly user interface and is relatively safe to be used. They will not do hard to computer system because they only fix the error; they will not delete any important files from your system.
I recommend you use Smartpcfixer, a popular registry cleaner tool used by many people. It is easy to use and will not bring any damage to your computer. Please download from here:
www.smartpcfixer.com/ you could fix your problem in only a few steps. See the attachment below: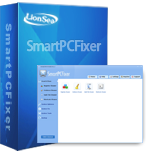 If your problem still exists, you could use Disk Cleanup Utility to have a try.
1. Click the Windows "Start" button and select "All Programs".
2. Scroll up and select "Accessories."
3. Click "System Tools" and click "Disk Cleanup" to launch the Disk Cleanup Utility.
4. Once it has been started, it will scan your PC for unwanted and unnecessary files that are safe to delete and display them in separate categories on a new window.
5. Place a check on the following categories to remove unwanted files from your PC:
Temporary Internet Files
Downloaded Programs
Recycle Bin
Compressed Old Files
Temporary Files
6. Click "OK." The Disk Cleanup Utility will remove unwanted and unnecessary files from the categories you selected and free up system memory.